Top 10 Tips for Personal Finance (2018)
Whether you're starting your first job or already in the workforce, it's always a good idea to have a plan of action when it comes to your personal finances. Managing your own money can be confusing and complicated when you're first getting started, trust me, we've all been there. That's where the internet can be a huge asset. At least once a year I like to take a step back and look at my our family budget and see where we can make improvements. It's really easy to get off track sometimes for various reasons, but it can also be just as easy to make a few adjustments to get back in the right direction. Little things like packing lunches for the week versus eating out for lunch can add up to real savings.
COFFEE, SNACK, LUNCH IN THE OFFICE VS EATING SNACKS, COFFEE, AND LUNCH FROM THE CAFE
This article is a compilation of Personal Finance advise from reputable sources from around the web. Feel free to look at some of the articles that are linked below to get some additional information on important money matters. Let's take a look at the Top 10 Tips for Personal Finance from around the web:
To watch a video on How to Budget by Mint.com, click here:
1. Know How to Budget
The backbone of a sound financial plan is a budget. Budgeting helps you make the most of your money and reach your financial goals.
To create a budget, you first need to know how much money you're bringing in. Some people choose to use their net income as their starting figure, while others like to use their gross income. Then, list all of your expenses so you know where your money is going. After that, track your spending for a month and see how it compares with your budgeted amounts. This will allow you to look for places where you can cut back on spending.
Once you have a budget in place, stick to it. (
Bankrate
)
2. Set Up an Emergency Fund
One thing you count on is that, at some point, you'll have an unexpected expense. An emergency fund can help defray the impact of the unforeseen on your monthly budget. Aim to set aside six months' worth of living expenses, but if that seems insurmountable, start with a smaller goal. At minimum, try to keep $1000 in your emergency fund, building it up as your available income increases. Remember that an emergency fund is for emergencies only; if necessary, make it difficult to access the funds so that you're not tempted to use them for non-emergencies. (
Quicken
)
3. Manage Your Debt to Stay Out of Debt
"Without a strategic debt management plan, you will likely continue to accrue debt which puts you further behind and makes it harder to escape. Debt management includes strategically paying down the most expensive debt first, like credit card debt, then personal loans, then student loans, and then housing debt. However, debt management is also just as much about avoiding future debt and looking for areas to cut back spending or at least, spend smarter. If you find yourself buying coffee every day or eating out at lunch, think about packing lunches or buying a coffee machine, which could save you money in the long term."
-Ajamu Loving, PhD, Professor of Finance. (
Forbes
)
4. Start Saving for Retirement Now
Just as you headed off to kindergarten with your parents' hope to prepare you for success in a world that seemed eons away, you need to prepare for your retirement well in advance. Because of the way
compound interest
works, the sooner you start saving, the less principal you'll have to invest to end up with the amount you need to retire and the sooner you'll be able to call working an "option" rather than a "necessity".
Company-sponsored retirement plans
are a particularly great choice because you get to put in pre-tax dollars and the contribution limits tend to be high (much more than you can contribute to an individual retirement plan). Also, companies will often match part of your contribution, which is like getting free money. (
Investopedia
)
5. Live Simply and Be Frugal
Most people don't associate billionaires with penny-pinching, but that's how famed investor and billionaire Warren Buffett approaches his personal finances. Buffett bought a relatively modest house back in 1958 for just $31,000, which was around $275,000 in [2017] dollars, and he continues to live in it to this day. For context, the median home price in July [2017] was $313,700.
Buffett has summarized
his views on success and happiness
like this:
"Success is really doing what you love and doing it well. It's as simple as that. Really getting to do what you love to do everyday -- that's really the ultimate luxury . . . your standard of living is not equal to your cost of living."
Buffett also holds on to his vehicles for a long time, as does Wal-Mart found Sam Walton. And IKEA founder and billionaire Ingvar Kamprad once shared why having lots of money doesn't mean you should indulge yourself to no end:
"I'm a bit tight with money, but so what? I look at the money I'm about to spend on myself and ask myself if IKEA's customers can afford it . . . I could regularly travel first class, but having money in abundance doesn't seem like a good reason to waste it." (
The Motley Fool
)
To watch a video about the 3 Principles of Personal Finance by Mint.com, click here:
6. Working Forever Isn't a Retirement Plan
When you hit your 40s, you should understand that saving for retirement is a critical part of your financial strategy. If you're behind on retirement savings at this point, consider ratcheting up how much money you're contributing to your retirement accounts.
The maximum contribution amount for 401(k) is $18,000 in 2017 and $18,500 in 2018. Outside of your workplace plan, you can contribute an additional $5,500 to an IRA.
Unsure if you're on track with your retirement savings? Check out Bankrate's
retirement calculator
to see what it will take to reach a secure retirement. (
Bankrate
)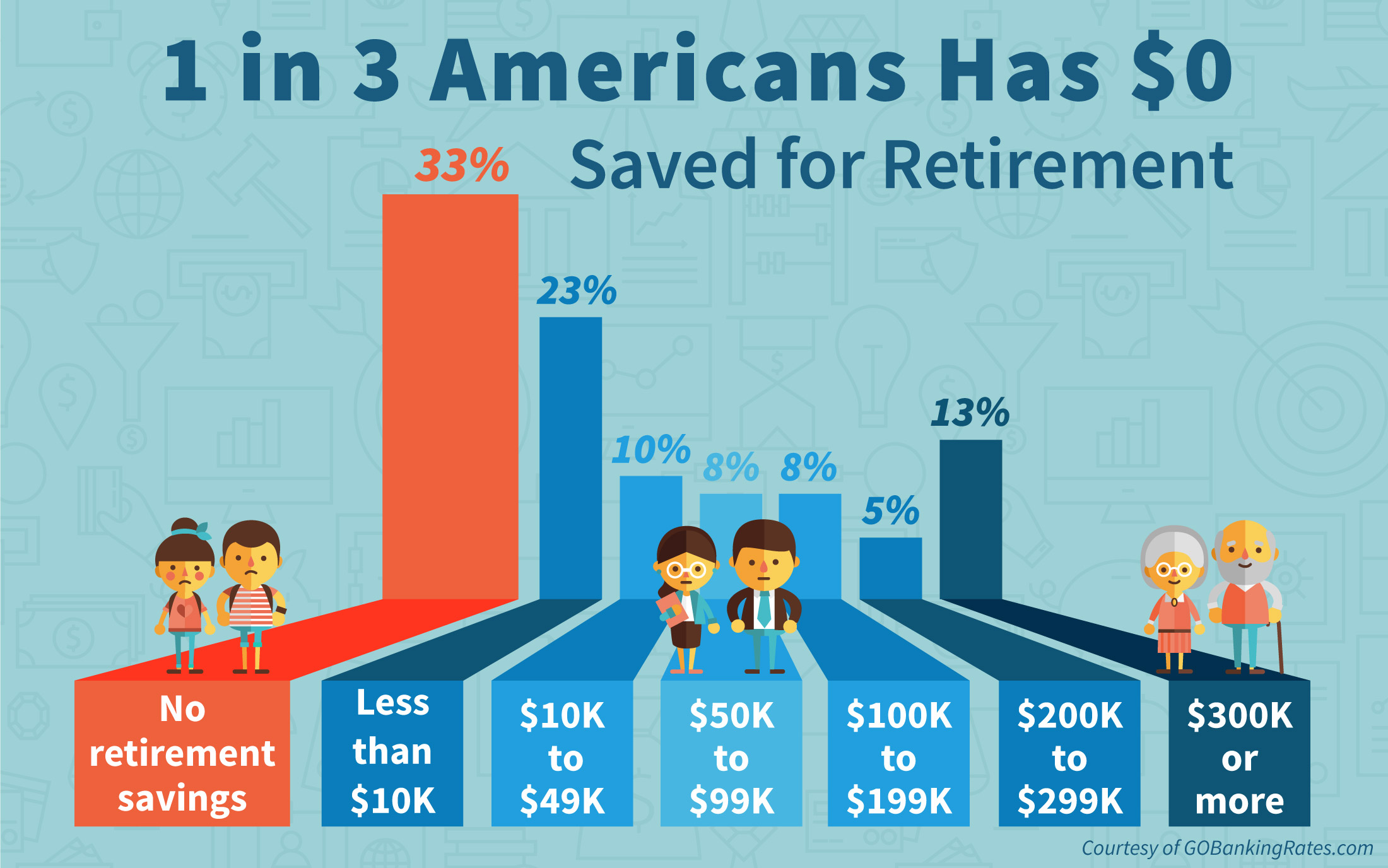 7. Guard Your Wealth
If you want to make sure that all of your hard-earned money doesn't vanish, you'll need to take steps to protect it. If you rent, get renter's insurance to protect the contents of your place from events like burglary or fire.
Disability-income insurance
protects your greatest asset - the ability to earn an income - by providing you with a steady income if you ever become unable to work for an extended period of time due to illness or injury.
If you want help
managing your money
, find a fee-only financial planner to provide unbiased advice that's in your best interest, rather than a commission-based financial advisor, who earns money when you sign up with the investments his or her company backs. You'll also want to protect your money from taxes, which is easy to do with a retirement account, and inflation, which you can do by making sure that all of your money is earning interest through vehicles like high-interest savings accounts,
money market funds
, CDs, stocks, bonds, and mutual funds. (
Investopedia
)
8. Have a Long-Term Investing Strategy
There's no better way to build up your wealth than let your money earn even more money for you by investing in stock or
index funds
. John Bogle, the founder of The Vanguard Group and the
creator of index mutual funds
, says many things will try to distract you from your long-term goals, but you have to stay the course: "Do not let false hope, fear and greed crowd out good investment judgment. If you focus on the long term and stick with your plan, success should be yours."
Bogle's words aren't puffery, either. The index funds offered by his company are some of the easiest ways to build long-term wealth because of thier historic 10% annual returns and
low expense ratios
. (
The Motley Fool
)
9. Create a Healthcare Contingency Plan
No one likes to think about it, but at some point you might be unable to make your own healthcare decisions. The best time to address this contingency is long before you're actually in that situation. The typical documents you'll need are a healthcare power of attorney, which allows a certain person to make medical decisions on your behalf, and a living will, which outlines your wishes for care in various medical situations. Check the laws in your state, since some laws require a specific language or format for healthcare proxies.
Also consider long-term care insurance. "Its'a gamble," admits Holland, "and it's not right for everyone, but if you need it, you'll be glad you have it." In general, the wealthy and the poor are less likely to benefit from a long-term care policy. For those of moderate means, a policy can allow them to receive care without significantly impacting their net worth. (
Quicken
)
10. Credit is a Tool
At this stage, you're likely dealing with a mortgage, car loans, and children entering college. "A healthy credit score is vitally important to you," says Bruce McClary, Vice President of Communication at the National Foundation for Credit Counseling.
If you examine your credit score and don't like what you see, chances are you haven't paid your bills on time. "Paying on time counts for about one-third of your score," McClary says.
Committing to paying everything on time is the obvious solution to this problem.
It also pays to check your credit report carefully for credit killers, such as identity theft or inaccurate reports. Check your credit report for free at
myBankrate
.
Finally, at your age, work to pay off debt and keep balances low, he says. "Focus on power-paying those balances and getting rid of them as fast as possible." (
Bankrate
)
BONUS:
Do Something for Your Kids
"Think about what small thing you can do in [2018] that will have a huge impact for your children 10 or 15 years from now. Maybe it's funding a 529 account for college or the new 529 ABLE accounts for children with disabilities. Perhaps it's establishing a trust or funding a small investment account so they have a safety net after college. Small acts today can be lifesavers for your kids when they become adults. Plus, it may avoid the likelihood of having them move into your basement when they're 30."
-Adam Beck, JD, Professor of Health Insurance (
Forbes
)
Buy a Life Insurance Policy
Choosing life insurance involves a complex decision between term, whole and universal life, with variable or fixed options. Determining how much life insurance you need can also be complicated, although having a good handle on your assets and liabilities can help with the calculation. If you have a spouse, children or others who depend on your income. However, don't let the potential difficulty keep you from purchasing insurance, advises Holland. "The last thing your loved ones need is to worry about how they're going to pay the bills while they're still dealing with your loss." (
Quicken
)
Make Your Final Arrangements
Planning your own funeral might make you a little uncomfortable, but it can save your loved ones time, stress and money when you're gone. "A preplanned and prepaid funeral can ease the burden on survivors," Holland explains. Your family won't have to worry about choosing between gray silk or white satin when they're in the middle of mourning, and they'll be sure your wishes are being met. (
Quicken
)
Protect Your Heirs' Inheritance
An estate plan is an essential part of a personal financial plan. The complexity of your estate plan will depend on your situation, but a basic plan typically includes a will and a living trust. A will provides instructions for the distribution of your assets after your death and names a guardian for your minor children. If you only have a will, however, your estate might still go through probate, which can take several months and drain a portion of the assets.
A living trust avoids probate, lets you provide specific instructions for the distribution of your assets and names the person who will pay your final bills, deliver inheritances to your heirs and close out the estate. Avoid a common mistake people make with living trusts, however. "You must fund the trust, by retitling assets such as bank accounts, investments, personal property and real estate into then name of the trust," warns Holland. "Otherwise, those items will still need to go through probate, and you lose the advantage of the trust." (
Quicken
)
Was this article helpful? Please let me know in the comments section.